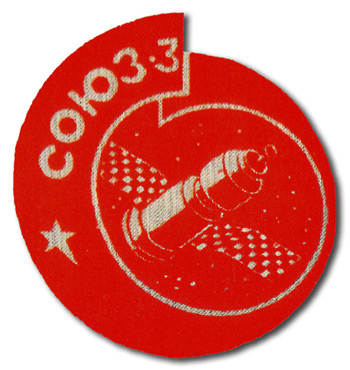 October 26 - 30, 1968
---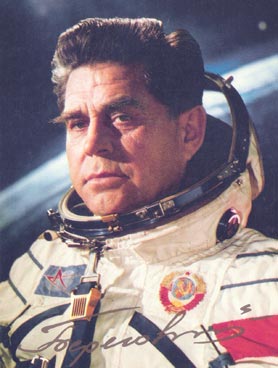 Left: Georgi Beregovoi during training in a Soyuz mockup. Right: a portrait made during the late 70's, posing in a spacesuit that Beregovoi never wore during his only space mission.
Second manned Soyuz flight, launched from Baikonur at 08:34:18 UTC on October 26, 1968 and the first manned mission of the new type of Soviet spacecraft after the Soyuz 1 distaster that killed cosmonaut Vladimir Komarov in april 1967. In a mission similar to the Soyuz 1 scenario, Beregovoi rendezvoused with the unmanned Soyuz 2 launched on October 25, but failed to dock.

Ground controllers were able to bring the two spacecraft within 200 m of one another before Beregovoi took control of the Soyuz to complete the maneuver. Unfortunately, while he was able to close the gap to only one metre, three successive attempts to dock failed. The failed docking was blamed on manual control of the Soyuz by Beregovoi, who repeatedly put the spacecraft in an orientation that nulled the automatic docking system. Nearly all manoeuvre propellant was used in the docking attempts; of 80 kg allocated, only 8 to 10 kg remained.

Complex testing of spaceship systems; development of procedures for spaceship manoeuvring and docking in orbit in joint flight with spaceship Soyuz 2; development of elements of celestial navigation; conduct of research under spaceflight conditions. In television broadcasts, Beregovoi gave viewers a guided tour of the spacecraft modules.

Returned to Earth near the city of karaganda at 07:25:03 UTC on October 30, 1968. Beregovoi never flew in space again, but headed the Yuri gagarin Cosmonaut Training Center for 15 years.

The red Soyuz 3 patch is printed on a ribbon of textile, the only copy of which seems to be in possession of the redaction of the Russian magazine Novosti Kosmonavtiki in Moscow. The patch was intended to be worn by Beregovoi or at least used during the mission, but never was.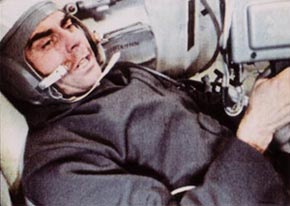 Left: An illustration of what Soyuz 3 looked like while on orbit. Right: Beregovoi during a televised guided tour through his spaceship.
Left: An early Soyuz spacecraft during testing. Right: the Soyuz 3 descent module, where it is exhibited until today in the Energia museum near Moscow.
---
The 'original' Soyuz 3 patch seems to be owned by Novosti Kosmonavtiki; no copy has been seen elsewhere. Stewart Aviation produced this souvenir Soyuz 3 patch after a design by Vadim Molchanov during the 1980's.
---
Soyuz 1 | Soyuz 3 |