Soyuz MS-11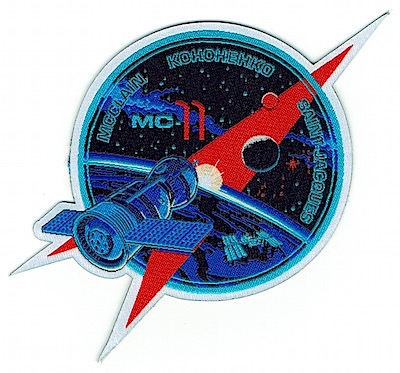 The Soyuz MS-11 crew emblem depicts the spacecraft, which for over 50 years has been the main means of delivering astronauts and astronauts to low-Earth orbit and continues to be an integral part of space research. On the right is the International Space Station, which serves as an outpost for scientific research in space, where, among other things, technologies for future interplanetary manned flights are being worked out, and symbolizing the international partnership necessary to achieve this lofty goal. The red arrow, an element of the Roscosmos logo, is directed towards the Moon and Mars, symbolizing the priority tasks of mankind in space. The Milky Way symbolises our galaxy, the location of the Earth and our Solar system. The image of the Earth on the emblem is identical to how it is seen by cosmonauts and astronauts through the porthole. The shape of the digits in '11' resembles the curved exterior of a football stadium, recognising the World Football Championship in Russia. On the right the design shows the constellation of Scorpio with its brightest star Antares - the call sign of the crew, commanded by Oleg Kononenko, whose name is in the upper part of the emblem. The emblem also shows the names of two other crewmembers: David St. Jacques (CSA astronaut) and Ann McClain (NASA astronaut). The horizon, dividing the emblem in half, symbolizes the dawn of a new era in space exploration and the hope that space continues to inspire and unite people from all over the world.
Designed by Blake Dumesnil. Copyright Roscosmos



Soyuz MS-10




The triangular design of the Soyuz MS-10 crew patch shows the spacecraft orbiting over the Earth's surface. Behind our blue planet, the elements of the Russian and American flags stress the international character of the space mission. The three stars, part of the US flag recall the original three crewmembers, before the removal of cosmonaut Tikhonov from this mission. In the backround of deep space, the silhouette of an owl is visible, symbolising the scientific wisdom that orbital research on board the International Space Station will gain. The orbital complex is shown in bright yellow on the left. The top right angle of the logo shows the direction of mankind's future dream: via the Moon to deep space. The Roscosmos logo is put at the top of the design, with the crew names underneath. The spacecraft designation is put in the centre of the patch. Designed by Luc van den Abeelen.
Copyright Roscosmos/spacepatches.nl
On October 11 2018, Soyuz MS-10 suffered a launch abort with the crew landing safely.


Beyond




Luca Parmitano chose 'Beyond' for his next ISS mission. From the nearness to Earth of Pesquet's Proxima mission to the broadening scope of Gerst's Horizons mission, Luca saw a path that will push humankind even farther, for the benefit of all. The mission logo illustrates this trajectory. An astronaut looks out into space through a helmet visor. Earth and the Space International Station are reflected in this visor. In the distance, the Moon is poised for humankind's return, with the Orion spacecraft and exploratory rovers. Beyond is Mars, the Red Planet, currently being studied by satellites such as ExoMars, Mars Express and, one day, by humans.


December 3, 2018

Visit our Facebook page for the latest news about space patches!

---

Visit our Flickr gallery. New pictures and info uploaded every week!


---
Spacepatches.nl, created in 2000 by and for space patch enthusiasts, researches the history of space patches (primarily manned missions) and shares information with fellow collectors and designers.

We also proudly helped design and produce official artwork and embroidered patches, including: Soyuz TM-29, Soyuz TMA-4, TMA-12 '2nd edition', TMA-14 through TMA-22, all TMA-M and MS missions, Mars500, Soyuz au Guyana, Yurchikhin personal, VKD/EVA-25,26,32,33, new (blue) Roscosmos logo's, Samara Space Center, Soyouz/CNES, ISS Expedition-31, Expedition-37, ESA Astronaut Class 2009, Tereshkova replica, Soyuz T-6 30 years
---
ISS Schedule:

Soyuz MS-11: Dec. 3, 2018 Kononenko, McClain, Saint-Jacques
Starts Exp 58

---
Soyuz MS-12: Mar. 1, 2019 Ovchinin, Hague, Hammock-Koch
Starts Exp 59

---
Soyuz MS-13: Jul. 10, 2019 Skvortsov, Parmitano, Morgan
Starts Exp 60

---
| | | |
| --- | --- | --- |
| Soyuz MS-09 | Expedition-57 | Soyuz MS-11 |
| | | |