Two 'official' versions of the Soyuz TMA 12 crewpatch; on the left as worn on the crew's Sokol spacesuits; a 100% embroidered patch. On the right the version that was handed out by Roscosmos at Baikonur on the day of the launch, which seems to have a felt background. Note the dotted white outline of the Soyuz and its solar panels and the '1' that is of a different font.
---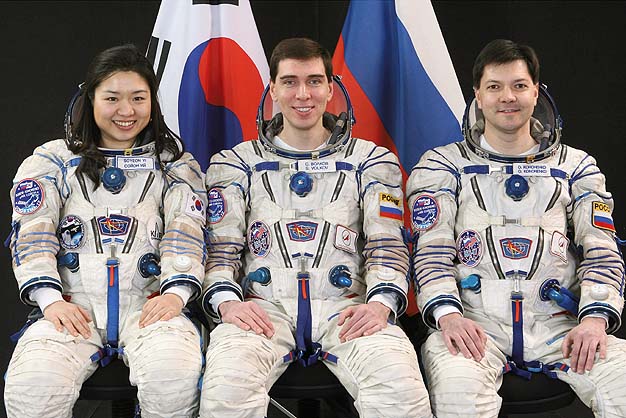 (JSC2008-E-027004 - March 2008) --- Two Expedition 17 crewmembers pose for a portrait with a spaceflight participant at the Gagarin Cosmonaut Training Center in Star City Russia. From the left are South Korea's Soyeon Yi, spaceflight participant; along with Russian Federal Space Agency cosmonauts Sergei Volkov, Expedition 17 commander; and Oleg Kononenko, flight engineer. The three will launch aboard Soyuz TMA-12.
---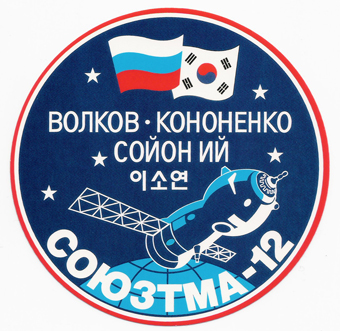 The only available artwork differs in the font of the mission name; it is much heavier than in the embroidered patch.
---
Soyuz TMA-12 original design
The original Soyuz TMA-12 crewpatch; designed by Volkov and Kononenko and produced by themselves. Only about 40 patches were made. After the changes in the crew about 15 Soyuz TMA-12 patches were produced with the name of Yi So-yeon. (see top of the page).
---
Soyuz TMA-12 small version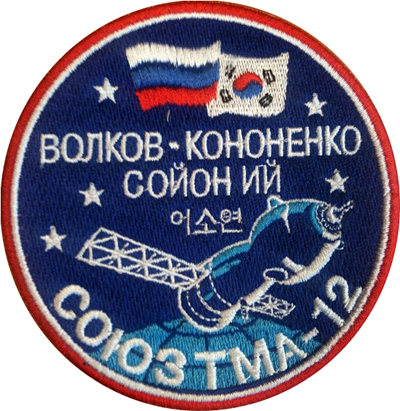 A smaller version of the patch, as flown on the onboard suits. It is 90mm instead of 9.8mm. Only three were flown (picture is of a Kononenko flown patch).
The back side of the flown patch.
---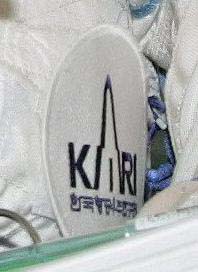 ---
---
TMA-11 | ISS Index |