---
An international crew including a former Expedition crew member, an Italian astronaut and a South African businessman launched to the International Space Station on April 25, 2002, at 06:27 GMT.
The brand new Soyuz TM-34 spacecraft docked to the space station on April 27, 2002. About 1.5 hours later, the hatches swung open between the Soyuz and the ISS. The Soyuz crewmembers exchanged seat liners from the new Soyuz to the 6-month-old Soyuz TM-33 in which they would ride home. After the Expedition Four crewmembers briefed the visiting crew on safety issues, they began nearly eight days of docked operations.
On his first flight, Roberto Vittori -- an Italian astronaut representing the Italian Space Agency and working for the European Space Agency -- served as a flight engineer for the Soyuz crew.
At 12:31 GMT May 5, 2002 the taxi crew undocked the Soyuz TM-33 from the Pirs Docking Compartment with Gidzenko firing the engines separating the vehicle from the ISS. Later that day after a four-minute de-orbit burn, the crew began a descent toward Earth with the crew landing in Kazakhstan at about 03:52 GMT May 5, 2002.
---
ASI is the agency sponsoring this flight and the related experimental programme, under the terms of an agreement between ASI and the European Space Agency on the one hand and the Russian Aviation and Space Agency (Rosaviakosmos) and the Russian company RSC Energia on the other.
In recognition of the 13th century Italian explorer and the extensive participation by the Italian Space Agency (ASI), Vittori's 'taxi' flight has been dubbed the 'Marco Polo' mission.
---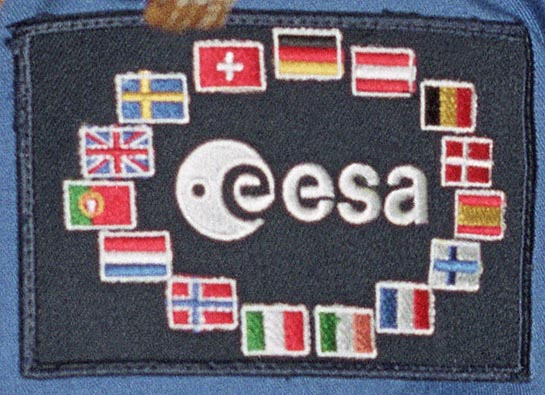 European patches as seen on the flight suits Robert Vitori worde during the Marco Polo mission.
---
Andromede | ESA Mission Index | Odissea