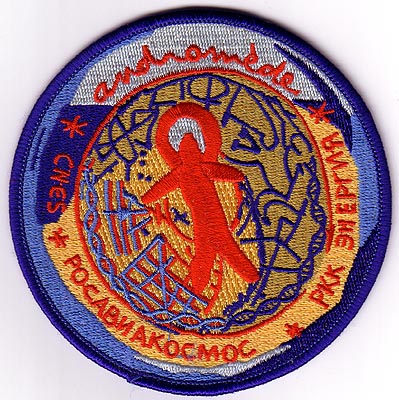 ---
Two Russian cosmonauts and a French astronaut delivered a new Soyuz spacecraft loaded with supplies and equipment and performed science at the International Space Station. Soyuz Commander Victor Afanasyev made his fourth trip into space, while Flight Engineer Konstantin Kozeev, both cosmonauts representing Rosaviakosmos, completed his first. Making her second flight into Earth orbit was Flight Engineer Claudie Haigneré. Though she represented CNES, or the French Space Agency, Haigneré flew for the European Space Agency under contract with Rosaviakosmos. Afanasyev and Haigneré are both veterans of previous missions to the Mir Space Station.
On October 21, 2001, at 09:00 GMT the Soyuz TM-33 Flight crew launched from the Baikonur Cosmodrome in Kazakhstan. The crew arrived at the International Space Station and docked to the Zarya Module's Earth-facing port on October 23, 2001. After arriving the station and receiving safety briefings from the Expedition Three crewmembers, both crews began eight days of joint operations and scientific research. Haigneré led the science effort with investigations into materials research, life sciences and meteorology.
Nearly 10 days after launch the Taxi crewmembers undocked from ISS on October 31 at 01:39 GMT. They left behind the brand new Soyuz spacecraft they arrived in and returned to Earth in the Soyuz TM-32 capsule, docked to the space station six months earlier. The Soyuz TM-32 de-orbited and ended its mission with a landing on the Kazakh Steppes at 04:58 GMT October 31, 2001.
---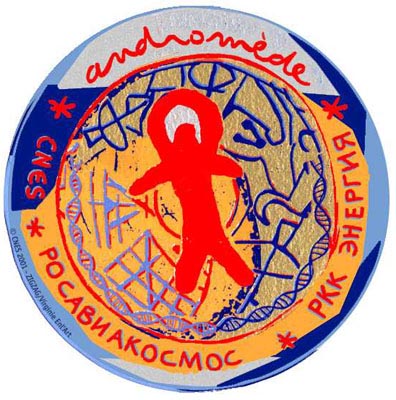 As Claudie Haigneré wished, CNES approached women designers to create the mission logo. Artist Virginie Enl'art was chosen. She used a symbolic combination of imagery, starting with the Andromeda constellation itself and using the chains which bound the princess to a rock (from which she was freed by Perseus) as an echo to the DNA chain.
The central figure (a cave-dweller from the valley of the Tagus) is a woman, signifying how far we have developed in 4000 years – her silhouette even hinting at what a spacesuit might be! The background is taken from a terracotta spindle whorl, evoking the form of high-precision instruments like satellites, the structure of the Space Station, geometrical diagrams and mathematical equations.
According to Enl'art, the colouring adds further weight to the various elements – gold is consciously shaped to a crescent moon, yellow to the Sun with its trailing eruptions, light blue is reminiscent of the Earth's atmosphere as seen from above, dark blue brings a hint of coolness, suggesting the dark void of the upper atmosphere and wider Universe, the red links the typography to the main character and the dynamism of the mission, and silver denotes the high technological aspect, at the very heart of this adventure.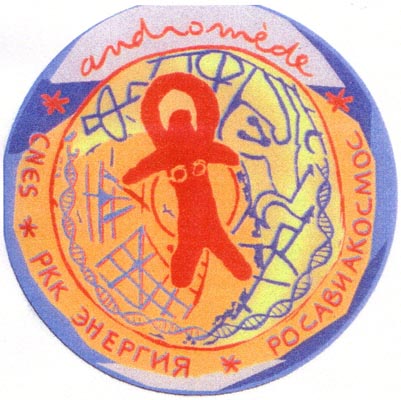 Above: The initial version of Andromede's mission logo. You can see some woman's body elements on it. The husband of Claudie Haignere disliked these elements, so they disapeard.
---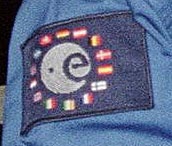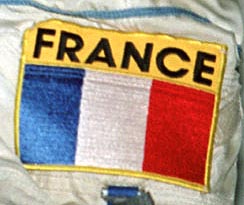 European patches as seen on the flight suits Claudie Haignere worde during the Andromede mission.
---
| ESA Mission Index | Marco Polo