STS-70 "WOODY WOODPECKER"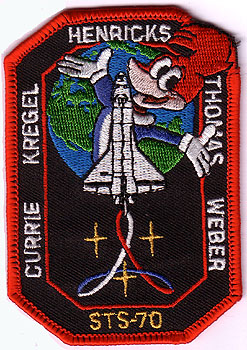 ---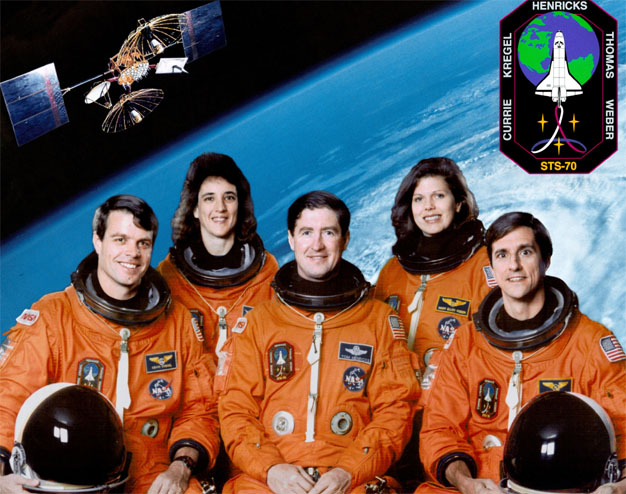 This five-person crew will fly the STS-70 mission, Terence "Tom" Henricks, Kevin Kregel, Donald Thomas, Nancy Currie and Mary Ellen Weber. This will be Kregel and Weber's maiden space voyage.
During the countdown for STS-70, the launch team discovered that a pair of Northern Flicker woodpeckers (Colaptes auratus) were trying to burrow a nesting hole in the spray-on foam insulation (SOFI) of the shuttle External Tank (ET) on pad LC39-B. Flickers generally construct their nests in the soft wood of palm trees or dead trees, and initially found the SOFI to their liking. However, upon striking the aluminum skin of the ET beneath the SOFI layer, they would stop and move to another spot to try again. The birds were quite persistent, and continued to peck holes until there were at least 71 spots on the nose of the ET that could not be repaired at the pad. As a result, the launch management team decided that the stack had to be rolled back to the Vehicle Assembly Building (VAB) for repairs to the damaged insulation.
---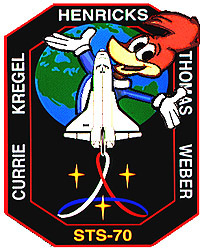 This funny alternate version of the official STS-70 crewpatch was made after a bizarre incident had caused the launch of Discovery to be postponed. The flight, wich NASA had labelled the 100th manned US space flight, was delayed because woodpeckers had chosen the External Tank as their target for drilling holes. After a while the insulation was damaged to such an extent that on June 8, 1995, it was necessary to roll back the vehicle to the VAB. After one week of repairs, Discovery was returned to the launch pad.
In "honour" of the pesky little varmints, JSC employees Paula Vargas and Andrew Parris took the original STS-70 patch design and added a smilling Woody Woodpecker, popping out from behind the Shuttle with his arms wide open.
When the crew saw this alternate patch, they loved it. The crew recieved one hundred of these patches and Don Thomas ordered an additional hundred for himself. It is not known whether one or more of these patches actually flew on board Discovery when the mission was finaly launched on July 13, 1995.
Tekst by: Jacques van Oene and Bert Vis, Spaceflight Magazine, March 1999.
"To my knowledge none of the woodpecker patches were flown on STS-70. I think they were produced after our flight and much too late to get them on board. Too bad though! Sincerely, Don."
Letter from astronaut Don Thomas to John Geenty.
---