---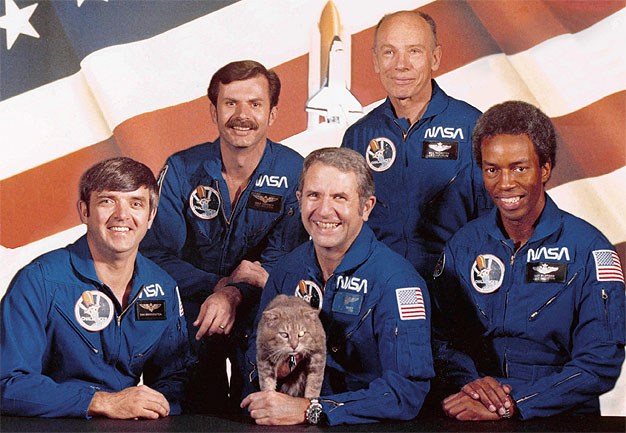 The STS-8 crew in a funny pose.
---
This "SPOOKY" looking CHALLENGER patch was designed by STS-8 Pilot DAN BRANDENSTEIN. At the center of the patch are two Space Shuttle cockpit-windows. In the right window, Commander RICHARD TRULY's eyes, behind spectacles, can be seen looking casually at things to come. RICHARD TRULY was the only veteran on board STS-8. The wonders of spaceflight might have seemed routine to him, having previously flown aboard STS-2. In the left window four pairs of wide open eyes can be seen gazing out. The eyes of the four rookies,(DAN BRANDENSTEIN, DALE GARDNER, GUY BLUFORD and BILL THORNTON) commander Truly led to space. The eyes seem curious or nervous, as they are making their first trip to space.
According to people who were involved in the mission, the real story behind the patch was that it showed the bespectacled mission specialist Dr. Bill Thornton, after the blood of the other crew members, who were frantically trying to get away from him. As part of Thornton's investigation into space sickness, he had to take some blood from his fellow crew members....
Tekst: Jacques van Oene and Bert Vis; Spaceflight Magazine, March 1999.
---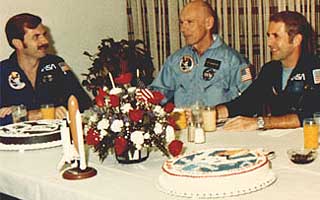 3 members of the STS-8 crew during their pre launch meal. In front of astronaut Dale Gardner is the STS-8 eyes cake.
---