---
The mission's sequence number originally had been STS-13, and it has been rumoured that the entire change in the numbering system for Space Shuttle missions after STS-9 was done to avoid having to fly "STS-13". NASA still remembered Apollo-13!! The crew, Robert Crippen, Francis "Dick" Scobee, George "Pinky" Nelson, Terry J. Hart and James van Hoften decided to challenge fate and Scobee designed a patch showing symbols of bad luck, such as a black cat, the number 13 and a Shuttle flying from underneath(!!) the cat to space. The patch has the crews nicknames, CRIP, DICK, TJ, OX and PINKY on it. Apparently, the patch was extremely exclusive, George Nelson has stated that he understood that less than twenty of these patches have been manufactured.
Tekst: Jacques van Oene and Bert Vis, Spaceflight Magazine, March 1999.
---
(STS41C-07-262 - April 1984)Photo of 41-C crew taken in aft flight deck of the Challenger while in orbit. Astronauts Robert L. Crippen, right, crew commander; and Francis R. (Dick) Scobee, left, pilot, flank the mission specialists -- (l-r) George D. Nelson, James D. van Hoften and Terry J. Hart.
---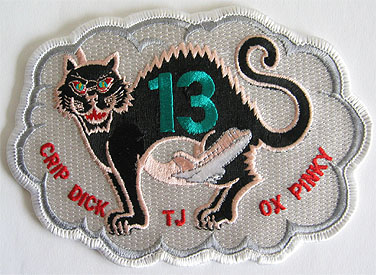 The Randy Hunt STS-13 patch.
---