---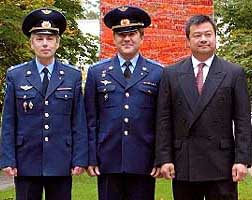 Left: (JSC2004-E-44736 - September 2004) Wearing Russian Sokol suits, the Soyuz TMA-5 crew takes a break from training to pose for a portrait at the Gagarin Cosmonaut Training Center in Star City, Russia. The crew members are, from the left, Russian Space Forces cosmonaut Yuri Shargin; cosmonaut Salizhan S. Sharipov, representing Russia's Federal Space Agency; and astronaut Leroy Chiao. Chiao and Sharipov are scheduled to remain onboard the International Space Station for approximately six months following their Soyuz launch in October, while Shargin will spend eight days on the orbital complex, returning with the Expedition 9 crew. Right:(JSC2004-E-44239 - 4 October 2004) Astronaut Leroy Chiao (right), cosmonaut Salizhan Sharipov (center) and cosmonaut Yuri Shargin (left) pose for photos at Star City, Russia as they prepare for their launch on the Soyuz TMA-5 spacecraft October 14, 2004, to the ISS. Below:(JSC2004-E-33606 - August 2004) Final training in Houston; Leroy Chiao, Yuri Shargin and Salizhan Sharipov take time out to pose for a photo.
---
---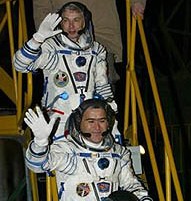 Two Photo's of the TMA-5 crew on their way to the Soyuz rocket on October 14, 2004.
---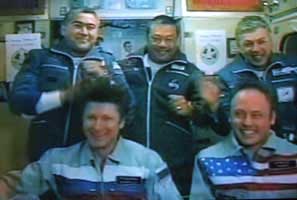 ---
The Soyuz TMA-5 patch was designed by Marc Jacobs:
"I did some designs for Exp-10 and had send them to Dr. Chiao, but he wrote me back that although he liked the designs they already had a patch. Several weeks went by and then Dr. Chiao send me an email out of the blue with regard to designing a TMA-5 patch and I was very excited. I submitted 7 ideas (see below), of which the crew chose one. Well, they asked for one revision before it got to it's current state"
The patch was first spotted on a website from Poland and at that time it was unclear if Yuri Shargin would be part of the crew. Leroy Chiao made a reaction to seeing the patch online: "I don't know how that could have happened! The third-seater for our flight has still not been determined. So, nothing is official yet with regards to the patch. Once the third seater is decided, we can make a decision."
On August 24, 2004 Leroy Chiao made it clear that Marc's patch would be the official TMA-5 patch: "Marc - Now that Yuri Shargin is pretty much official, I think that you can consider your patch design as the official one for the TMA-5 Soyuz!"
---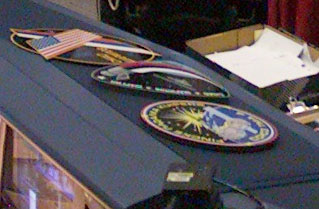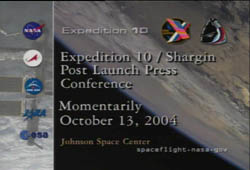 (JSC2004-E-46296 - 14 October 2004) A zoom in view of the station flight control room (BFCR) in Johnson Space Centerís (JSC) Mission Control Center taken as Expedition 9 heads toward its final days. On the right a view from NASA-TV.

---
This Soyuz TMA-5 patch was designed by Alex Panchenko:
"I've started design works of patches for Soyuz TMA-5 (ISS-10 flight) back in July 2004, when first scetches-drawings made in Starbuck coffe and later presented them for approval to Soyuz commander S.Sharipov. It was still not clear who is going to be third crew member of Soyuz and in this case I was preparing for Soyuz TMA-5 flight design in two variants (with name of Polonskiy and with name of Shargin-both candidates on third seat in Soyuz).
During design work with Soyuz TMA-5 patch my idea was to present Soyuz panels as symbolic flags of Russia and United States, and base of design is a window view outside. Crew names are in the same order as their actual seats inside Soyuz.Commander-S.Sharipov in center, L.Chiao on the left from commander and Y.Shargin on the right side."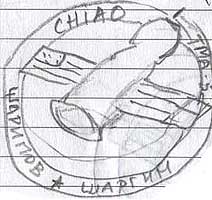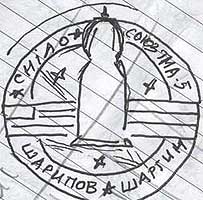 ---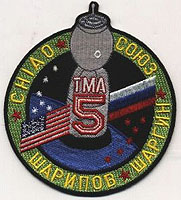 The Randy Hunt TMA-5 patches.

---
TMA-4 | ISS Index | TMA-6