SOYUZ TM-32
---
Mission Summary

Crew of Talgat Mysabayev, Yuri Baturin and Dennis Tito launched on April 28, 2001, delivering the fresh Soyuz TM-32 lifeboat to the International Space Station (with Expedition-2 under way). They returned to Earth in the 'expired' Soyuz TM-31 on May 6, 2001.
---
Crew History

Originally, on July 25, 1997, the crew for the first Soyuz "swap" mission (ISS EP-1) was announced as Talgat Musabayev and Nadezhda Kuzhelnaya, with Vladimir Dezhurov and Sergei Revin as their back ups. On October 20, 1997, Dezhurov was named as an ISS Expedition-3 crew member and he was replaced in the back up crew by Valeri Tokarev. On February 3, 1999, Kuzhelnaya gave birth to a daughter. She returned to flight status in April 1999. Musabayev started training for the flight on April 15, 2009; Kuzhelnaya joined him on May 12. The back up crew started training on September 3, 1999 (Tokarev) and October 6, 1999 (Revin). On June 2, 2000, Musabayev was re-assigned to Mir Main Expedition-30 with Yuri Baturin. They started training for that mission on June 12. Victor Afanasyev was named as Musabayev's replacement on ISS EP-1. At the end of June 2000, at the initiative of Energia, it was decided to replace back up crew member Sergei Revin with Konstantin Kozeyev. Kozeyev started training for the mission on September 4, 2000. On August 14, 2000, space tourist Dennis Tito had been officially introduced in Star City. He would fly to Mir with Expedition-30 crew members Talgat Musabayev and Yuri Baturin and return to Earth with Mir-29 crew Salizhan Sharipov and Pavel Vinogradov. When it became clear in November 2000 that there would be no more long duration Mir expeditions, Expedition-30 was cancelled and Tito was transfered to the first ISS Taxi mission. Officially because Kuzhelnaya was too small to fit into an Orlan space suit (although taxi crews were not expected to perform spacewalks), Musabayev and Baturin were transfered to EP-1 along with Tito. The final crew of Musabayev, Baturin and Tito was formerly approved on December 28, 2000, with Victor Afanasyev / Konstantin Kozeyev as the back up crew. Kuzhelnaya was removed from the mission entirely. Training started on January 22, 2001. The contract with Tito was formerly signed on January 30, 2001. On March 19, 2001, NASA refused to allow Tito to start training with the four cosmonauts at the Johnson Space Center, instead suggesting in a press release that "a European astronaut" (probably Thomas Reiter) was part of the crew. The international crisis was resolved on April 20, just a week before launch.
---
The Artwork
---
Dennis Tito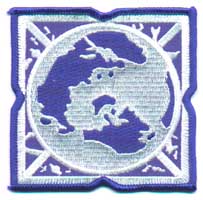 above left: Dennis Tito
above right: Dennis Tito's personal patch for Soyuz TM-32.

---