---
During the Skylab-2 mission Ardis Shanks had a party at her house, the astronauts wives were also there, here you can see them on these two photographs with the wives patch.
Image Right: From left to right: Helen-Mary Garriott, Sue Bean, Ardis Shanks and Gracia Lousma.
Image Left: From left to right: Gracia Lousma, Helen-Mary Garriott, Cheir (the lady who stood model for the wives patch) and Sue Bean. Photos: Ardis Shanks.
---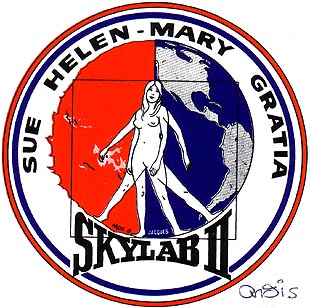 The main feature on the second Skylab crew patch was Leonardo da Vinci's universal man, slightly retouched to make it "G-rated"! Without their husbands knowledge, the astronaut wives also had a patch made wich was a joke version of the official crew patch. The universal man figure had been replaced by a "universal woman". Instead of the astronauts names; Bean, Garriott and Lousma, their wives first names were shown: Sue, Helen-Mary and Gratia. The crew first became aware of the wives patch when they found stickers of them in their lockers on board Skylab.
Tekst by: Jacques van Oene and Bert Vis, Spaceflight Magazine, March 1999.
---
The Skylab Wives patch is one of the most famous 'Funny' or 'Unofficial' patches. It is also one of the most controversial. Jacques Tiziou claims to have copyright to the patch because he produced the patches and stickers. Ardis Shanks painted the main element, model Cheir in a "Leonardo da Vinci" pose. Here are their own views on the matter.
Jacques Tiziou: "...I have been visiting the area (JSC and KSC) since July 1962 and been there regularly for print and radio and TV for ten years until I met her (Ardis Shanks) at the time of Apollo 16. I had already worked on projects (rejected) of Apollo crews emblems and been an artist for 18 years...
I designed the whole thing and asked very talented artist Ardis to draw the lady (From a picture. A Houston young lady posed for it). I asked Ardis to draw on transparent medium and she got some fancy plastic one from a friend at JSC, but by the time her black China ink dried and the rolled-up piece reached me in Merritt Island, there was not much left and I had to hand-copy it on less sophisticated transparent paper to add to my black page for color selection...
Whenever I had dinner with Ardis, there was no one else other than her kids and we never talked about the Skylab wives patch in front of the kids or anyone else. To me, at the time, it was the most classified project... Maybe Ardis mentioned the project to other people in spite of my requests for secrecy.
I did only 320 cloth patches of the Skylab Wives Emblem. Each of us friends could buy sets of 20. Ardis paid for 20 patches. We all paid twice the actual cost of our patches so that the wives would get theirs for free. 10 of the patches were going to the wives. I bought 60 (so kept 30) and gave most of them away. Only one person refused to pay his fair share of the costs, Tom Foley of Cape Kennedy Medals.
I was organizing a secret operation (without telling Ardis about it until much later) to put patches onboard the spacecraft and mailing of stickers and patches to everyone, from VIPs to VeryVIPs, a costly but fun activity. I told Ardis way in advance that we would both sign the stickers and that I would write numbers at top left and sign at the bottom right before sending them to her to sign them at bottom left, which she did with a few exceptions (but sometimes, those stickers would stick together, causing some to remain unsigned). There was no reason for her to be the only one to sign when she was doing only a small and paid part of the job, since her only contribution to the projects was the drawing of the female figure..."
Artist Ardis Shanks:
"...I lived in Nassau Bay Houston Texas ...which is by the space center... Alan Bean took painting classes from me... I did portraits of his daughter and his wife. Helen and Owen (Garriott) lived a few blocks away also. Gratia (Lousma) and her husband lived in Frenswood which is a mile or so from me. Jacques Tiziou was visiting our area when I met him.
I often had people from other places to my house for dinner. Jacques started attending these events. We all talked about a Wives patch, since there had never been one. I thought it would be a cute joke on my friends nothing more. This was the deal: I would paint it and do the seperations for printing. He (Tiziou) would take it to the printer. We would split the cost. We did that, and then got cloth ones made. We split the cost of that as well.
We got someone to put a few on the spacecraft before it went up. As a suprise to the guys. I made a great big one and Helen, Sue and Gratia, put it on the back of an antique car (they dressed in old fashioned clothes). They drove to greet the guys in this, at the return.
Image Right:: The wives of the Skylab-2 astronauts in the back of an antique car, note the wives patch on the back of the car. Photo: Ardis Shanks.
Image Right: Three old-fashioned girls greet their men upon their return from a 59 day spaceflight at Ellington Air Force Base.
The background of this patch (the wives patch) was designed by whom ever did the real patch (the original Skylab-2). I copied that, changed the names and used a girl that often posed for me to draw the body, her name is Cheir. When the patch was printed, I saw that Jacques had written his name on it as well. I didnt care.....he did pay for part of it. But that does not make it his. What is his, is the patches that he has and no more. It is an easy misunderstanding..."
---
Remakes and souvenir patches:
Two different souvenir versions of the Skylab-2 wives patch, the one on the left has the lady with a sripe instead of a navel, and the one on the right has the lady without a navel and note that the M of Mary is a little out of focus.
This photo of the patch was used in the article in Spaceflight Magazine, March 1999 by me because I did not have a photo of the real patch at the time. You can see that there are a lot af things different in this photo. The word Skylab II is in blue instead of black. The lady has no navel and the two outer rings have been reversed. This photo was given to us by someone from NASA but it is not an official NASA photo. It could be that NASA wanted someting to show and that they made this photo.
---