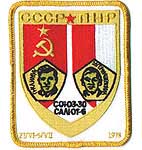 The Space Commerce Corporation reproduction (l) and the Stewart Aviation reproduction (c). The patches at right are souvenir versions made by Eagle One Aerospace.
The patch was designed and produced by the Zvezda corporation. Two souvenir versions were made in the West by Stewart Aviation in England and Space Commerce Corporation in the United States. Two related commemorative patches were produced by Eagle One Aerospace in Virginia.
The Stewart Aviation version is no longer available from their catalogue, but Rundy Hunt might still have it. The SCC version is offered every now and then on eBay. The EOA-versions are no longer available. The original Soviet-made patch was made available to officials as part of a Presentation Set, which is scarcely seen in auctions.
The original patches shown on this page are scans from the book "40 Let Kosmicheskogo Polviga" ("40 Years of Spaceflight"; Moscow December 2000), except for the Interkosmos 78 mission patch, which is photographed from the collection of Bert Vis. The picture of the artwork and the SCC version were taken from eBay auctions.
---
<-- S-28 | Salyut Index | S-31 -->