Soviet Flag (1973)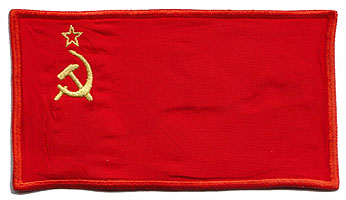 (1973-1975)
---
Following the Soyuz-11 disaster in June 1971, Soyuz-cosmonauts started wearing so called "Sokol" pressure suits. The flightsuits usually had two patches attached: the blue Zvezda logo on the right upper breast and a Soviet flag at the left sleeve. The first crew to wear the Sokol suit - and the Soviet flag - were Vasili Lazarev and Oleg Makarov, who were launched aboard Soyuz-12 on September 9, 1973.
The woven version of the Soviet flag (without lettering) was gradually replaced by a felt embroidered version showing the square letters "CCCP" on top. This felt version usually was not flown on the Sokol suit, however, until the 1978 Interkosmos mission. Exception is Soyuz-19 (ASTP) mission.
---
The Real Thing

Left: Soyuz-12 cosmonauts Vasili Lazarev and Oleg Makarov ready for take-off on September 9, 1973. Right: A close-up color picture of the flag attached to a training Sokol suit of Oleg Makarov in a '70's publicity photograph.
---
Source

The patch was made by the Zvezda factory and came with the Sokol suits. It was not commercially available. We do not have it in our collection and no souvenir versions have been produced. The picture of the patch was taken from the catalogue of a Superior auction.

---
Previous | Next
Salyut Index
---