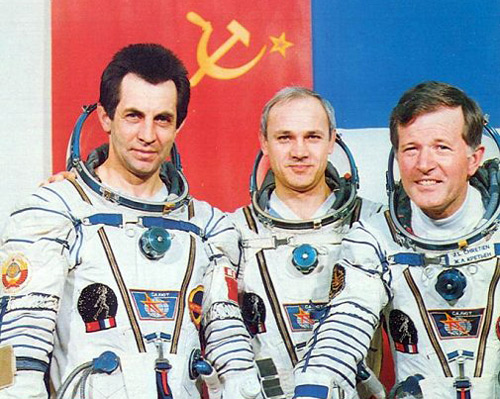 The Soyuz T-6 crew of flight engineer Alexandr Ivanchenkov, commander Vladimir Dzhanibekov and Jean-Loup Chretien.

Members of prime and backup crews: Ivanchenkov, Chretien, Dzhanibekov, Baudry, Kizim and Solovyov.

The second expedition to Salyut 7. The tenth international crew with a cosmonaut from France; Jean-Loup Chretien and the first time a guest from Western Europe joined Soviet cosmonauts on a space mission. France used the desciption 'spationaute' for Chretien, a term that was quickly discarded.

The mission is known these days as PVH; Premier Vol Habite (First Manned Flight). The name was coined after Chretien participated in a second flight with the Soviets in 1988.

Soyuz T-6 suffered an Argon computer failure at 900 m from Salyut 7. Commander Vladimir Dzhanibekov took manual control and docked with the station 14 minutes ahead of schedule. The skill he displayed contributed to his being tapped for the Soyuz-T 13 mission to rescue Salyut 7 in 1985. The mission marked the start of a new phase in the manned Intercosmos flights: Chretien was the first French and West-European astronaut to participate. Several joint Soviet-French scientific research and experiments were performed, including a series of French echography cardiovascular monitoring system experiments.

During the stay of the Soyuz-T 6 visiting expedition, the Elbrus gave visiting Frenchman Jean-Loup Chretien the 'honor' of ejecting a satellite - Salyut 7's weekly bag of waste - from the small trash airlock. In his diary, Lebedev quoted Chretien as saying Salyut 7 "is simple, doesn't look impressive, but is reliable."