MOL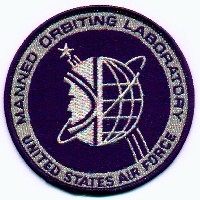 ---
After the Dyna-Soar X-20 program, the US Air Force second venture into manned spaceflight was the Manned Orbiting Laboratory, better known as MOL. Beginning in 1963, MOL was a proposed series of five (or more) two-man flight in polar orbit to begin in 1968. US Air Force astronauts were to use surplus Gemini spacecraft (Gemini-B or Blue Gemini) attached to a new, cylinrical laboratory, with the whole complex launched aboard a Titan-III rocket from Vandenberg AFB in California. The missions, which were to last up to 30 days, were to involve militairy reconnaissance.
The US Air Force announced that it would select and train twenty astronauts, designated "Aerospace research pilots". Budgetary problems (made worse by the Vietnam War) eventually cut the number of planned flights to four and postponed the first manned mision to 1972.
The only MOL launch was on November 03, 1966 from Cape Kennedy SLC-40. The launch was delayed from October 28, 1966. Lift-off came at 8:50:42 am EST. The GEMINI vehicle atop the TITAN-III rocket was refurbished after it was used in the second unmanned GEMINI-TITAN-II test on January 19, 1965. The GEMINI-2R capsule made a 33 minute suborbital flight. A fiery plunge at 17500 mph tested GEMINI-2R's heat shield integrity with reentry temperatures reaching 3000 degrees fahrenheit. Landing came 7 n-miles from the planned impact point, near Ascension Island.
When it became apparent to the US Air Force that MOL essentially would duplicate the effort of the NASA Skylab program, and that unmanned reconnaissance satellites had developed to the point where manned presence in space was unnessery, MOL was cancelled in June 1969.
---
The Astronauts
GROUP-1, 12 November, 1965
Michael James Adams (Major USAF) born, May 5, 1930 in sacramento, California.*
Albert Hanlin Crews, Jr. (Major USAF) born, March 23, 1929 in El Dorado, Arkansas.**
John Lawrence Finley (Lieutenant USNavy) born, December 22, 1935 in Winchester, Massachsetts.
Richard earl Lawyer (Captain USAF) born, November 8, 1932 in Los Angeles, California.
Lachlan Macleany (Captain USAF) born, June 13, 1931 in St. Louis, Missouri.
Francis Gregory Neubeck (Captain USAF) born, April 11, 1932 in Washington DC.
James Martin Taylor (Captain USAF) born, November 27, 1930 in Stamps, Arkansas.
Richard Harrison Truly (Lieutenant USNavy) born, November 12, 1937 in Fayette, Mississipi.
*Michel Adams left the MOL program in July 1966 for the X-15 program.
**Al Crews was selected for the X-20 Dyna-Soar Project in September 1962. When the MOL program started in 1963 the X-20 program was canselled.
---
GROUP-2, June 17, 1966
Karol Joseph Bobko (Captain USAF) born, December 23, 1937 in New York City, New York.
Robert Laurel Crippen (Lieutenant USNavy) born, September 11, 1937 in Beamont, Texas.
Charles Gordon Fullerton (captain USAF) born, October 11, 1936 in Rochester, New york.
Henry Warren Hartsfield, Jr. (Captain USAF) born, November 21, 1933 in Birmingham, Alabama.
Robert Franklyn Overmyer (Captain USMarines) born, July 14, 1936 in Lorain, Ohio.
---
GROUP-3, June 30, 1967
James Alan Abrahamson (Major USAF) born, May 19, 1933 in Williston, North Dakota.
Robert Tralles Herres (Lieutanant Colonel USAF) born, December 1, 1932 in Denver, Colorado.
Robert Henry Lawrence (Major USAF) born, October 2, 1935 in Chicago, Illinois.
Donald Herod Peterson (Major USAF) born, October 22, 1933 in Winona, Mississippi.
---
The Artwork

Quest magazine has published a series of articles on the history of the MOL program. In conjunction with the articles "Space Country Souveniers" was able to make reproductions of the original MOL program emblem based on one of the original program patches given to MOL pilot and Shuttle astronaut Karol J. Bobko.
The patch is 4-inches in diameter and is stiched with Air Force blue and metalic silver thread. The path reads "Manned Orbiting Laboratory" and "United States Air Force" with a stylized helmeted aerospace research pilot next to a globe encircled by a MOL orbit vector. The traditional astronaut "shooting star" arcs across the center emblem.
The only public display of the original MOL patch is at the USAF Museum in Dayton, Ohio where the patch can be found sewn onto the right shoulder of a MOL suit in their pressure suit exhibit.
Thanks to Space Country Souvenirs for the information.
---